Suprising Facts about TEA
Posted on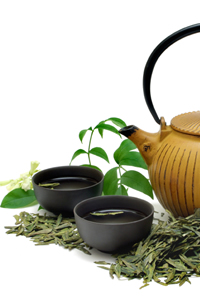 All tea comes from the same plant, Camellia sinensis. It is the way the plucked leaves are processed, that changes its character, chemical composition and appearance.
White tea, the youngest leaves
White tea is thought by many to be one of the highest prized teas you can drink. Always handpicked, a high quality white tea is given such care ensuring the natural withering process and gentle drying are the only process the leaves are exposed to. Just as in green, black and oolong tea, white tea is from the plant Camellia sinensis. New growth buds and young leaves are plucked before they are fully open and it is the silver hairs on the new buds that give the young leaves a white appearance. The removal of any real processing is believed to yield the high antioxidant health benefits associated with white tea identified in recent studies.
Green tea
Green tea is one of the least processed teas. As a result, it retains high levels of antioxidants (polyphenols), often referred to as ECGC or catechins, and it is their abundance that provides us with some specific green tea health benefits reported in many of the leading health journals - one of the more topical ones is of course green tea's ability to boost the metabolism and burn fat. Many regions produce green tea, however the more well known are from China and Japan.
Pouchong
Pouchong is classed as between Oolong tea and Green tea. It has a more mellow taste than Oolong tea yet stronger than Green tea. Pouchong tea is considered to be a special taste by tea experts all over the world. Pouchong tea is only slightly oxidised, between 8 and 10 % and the process involves solar withering, indoor withering, panning, rolling and then drying for the finished tea.
Oolong tea
Oolongs as a group, are classed as 'semi-oxidised' which means the leaves have been left to wither, a process which produces a chemical change in the leaf, oxidation. The physical change visible is the leaves begin to curl and the edges begin to turn a coppery colour. To produce Oolong tea, this process is stopped before fully completed and thus the leaves are 'semi -oxidised'. The variety within oolong tea is largely due to the point in the process the oxidisation is stopped, and that is where the skill of the tea master comes into play to ensure the quality and consistency required for each tea.Oolong tea', 'wulong tea', 'wuyi tea', 'wu yi' tea - what's the difference? These are simply names for the same thing: oolong tea. The different names originate from the different areas they are produced
Black tea
The reason black tea is different is because the plucked leaves are 'fully oxidised'. There are many variations of methods and processes used by tea producing regions, hence the wonderful variety of colour and flavour.