Yoga: to teach or not to teach
Posted on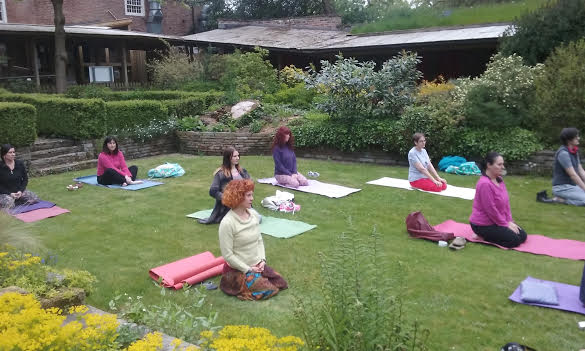 Yoga: to teach or not to teach?
If you are a yoga practitioner sat out there thinking about this then there is no easy answer.
Yoga Teacher Training is a minefield of variables and evolving at the same time. That's a bit like juggling while on a skateboard. At the end of the day after you have made all the necessary enquiries and spoken to all the necessary course tutors and visited all the necessary studios and read all the necessary syllabus and checked all the books lists and listened to all those friends and contacts who have told you how hard it has been and how they never thought they would get over their nerves to teach a group of people, then you have to pay your money and take your choice.
Safety and Yoga Teaching
Your friends are right in many ways in that yoga teacher training courses are hard work. They require a lot of commitment probably over a full year giving up weekends and some evenings.
A 200 hour course means you have to spend 200 hours of quality time on your learning and on most good courses around 160-180 of those hours have to be with the course tutor. There will be homework every month including preparing flows to teach to your fellow trainees. The better courses spend at least half the time on training and practice which means actually working deeper with the techniques you use in your own practice and will ultimately use in a scheduled class with members of the public. The practice flows with fellow trainees will often allow time for diagnosis so you can receive constructive feedback and you will also be able to give this back. Safety has to be the first priority in your learning process and this is often overlooked with many trainees who initially get preoccupied with things like technique, timing, postural benefits, oral skills and nerves.
Teaching for YOU or for THEM
The safety issue is an interesting oversight and is often indicative that in the early months trainees are still teaching for THEMSELVES. This links in with the important issue in teacher training of approaching it with a strong view of Self Enquiry rather than personal or even professional development albeit the latter is important but again mostly with your intended students in mind.
Even if you have been practising yoga regularly for many years and even if you are already teaching another subject you will find that teaching yoga to others is a paradigm shift.
Motivation behind teaching, and this doesn't just apply to teaching yoga but to any subject, is that when you develop skills and knowledge with a view to passing these on to others, you learn things in a different way than when to do it for YOURSELF. In yoga, safety has to be a priority and also being honest about what you know and teaching only that. There can be a temptation once you start teaching yoga to scan a book for a technique and then attempt to teach it just to vary your class content. Teaching yoga whether it be a pose or breath control or any technique is more ethically done if from the depths of your own continued practice and development. In other words you have experienced it so much yourself that you know exactly what your student can expect and you can even tell them what to expect. This helps build yoga student faith and trust in you because you know what you are doing.
The safety issue is also not always about oversight and some trainees think because they cannot feel any strong warning signals when coming into pose then there is no need to mention it. This is not acceptable and often reflects trainee asana and technique knowledge. When a teacher really knows their techniques this includes all the possible dangers and risks and strong sensations that can be experienced by students attending classes. It becomes important to remember that as a yoga teacher you will be guiding students through an experience and you will want that experience to be the best is can be for THEM. In fact everything you say, every instruction you give, every pause you make, what volume you use etc all goes towards that experience. Students who attend you classes make an appointment with you for that experience. Only you have the power to make it the best it can be but always for THEM.
The YOU part of YOUR yoga experience comes when you are in you own personal practice.
So ask yourself early on, "why do I want to teach yoga?" and be scrupulously honest with yourself.
I know that some may now be a bit disheartened by these comments and think well surely I have to enjoy my teaching experience. These comments are not saying you can't enjoy it. The joy can be in making your students experience a safe and meaningful one. One where they can leave your studio feeling more alive and more of an idea of what it can feel like to be fully human after experiencing an hour of your magical alchemy.
What students want from yoga teachers
When asking new trainees what they think students expect from a yoga teacher most of them say things like: commitment, friendliness, good communication skills, respectfulness, mindfulness and awareness, insurance cover, enthusiasm for yoga, adaptable to student ability etc.
While all these things are good qualities, it is important to remember that most students attend classes for just a few reasons: they want good instruction as to how to practice the various techniques, the knowledge that a teacher has gained from years of practice and application and if they are lucky, some inspiration to continue their practice. These three elements have their own depths. Good instruction has to be audible, with clarity and confidence. It has to have accuracy and good timing and a little bit of humility that at least moves away from overpowering. Your dialogue is often best when it's smooth rather than snatched and fast paced. The faster you talk the more the students miss! Instruction has to impart just enough information. They say that beginners only remember 3 consecutive instructions.
Knowledge is what the teacher knows from years of personal practice and application. It's knowing about the order of the yoga flow. What posture should follow others. Should there be counter poses. When to breath. A common phrase used by yoga teachers is "Don't forget to breath!" When it is better to tell students when to breath and how to breath. These are just a few things to consider.
Inspiration might be a luxury in many yoga classes especially in gyms and spas when there can be over 30 attendees. Although even here inspiring students is not impossible. Inspiration often comes with experience and fluency with your yoga material. The use of humour and bringing emphasis to certain parts of your delivery etc.
Transformation and yoga training
I mentioned earlier that a good approach to yoga teacher training was to think of it more as an experience in Self-Enquiry. This term has many meanings and is even a kind of meditative technique in itself. One way of thinking about it though is that a teacher training course brings together a number of like minded people for 200 hours of more who are hoping to make some changes to their lives for the better. The loose objective might simply be to come out at the other end with a piece of paper that says they can teach yoga and that enables them to get insurance cover and work in gyms and spas and studios and the confidence to set classes up themselves in new locations.
For others it is more of a journey of self discovery. To being open to genuine and honest change and hopefully even a transformation in themselves. All good yoga training courses bring an element of this as trainees spend hours working and interacting together, exchanging information and experiences not just about yoga but other things in their lives. There is always a kind of inter supportive nature to yoga training. Everyone is rooting for each other wanting them to do the very best they can during the course and achieving the maximum benefits. Most trainees go to the trouble of attending each others public Observed Teaching Practices even travelling miles to do so giving pre class encouragement followed by praise at the end.
Trainees often say how they miss this spirit of friendship and community and often get together periodically to regenerate that feeling. Yoga teacher trainee friends are often made for life.
What's also interesting about all this is that while most graduates go on to teach, some simply bask in the joy of their experience. Having been a dedicated student for this more concentrated time enquiring more deeply into themselves they have also found strength in the psychological support gained from their deepening knowledge that leads them closer to modesty, openness, sincerity and a more natural an unassuming disposition.
So in conclusion, whether you intend to teach or not, a yoga teacher training course can be a great option for the benefits and values it can bring in its transformational journey. It is not an easy option and can mean hard work and a shift in your comfort zones but you are always going to be on the path that will provide you with the opportunity for change. This change is unique in that it provides the opportunity to expand the portals of your awareness and consciousness in a capsule of time that could otherwise take many years of simple weekly practice.
Barry Todd Yoga Teacher Trainer (HathaYogaMan)