Retreat to silence
Posted on
Imagine this: Absolute quiet interspersed with the sounds of birds singing , clocks chiming, the wind rustling through the trees and occasionally carrying the sound of the waves rythmically washing the b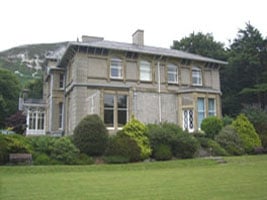 Picture this: A country house in it's own grounds with views of the sea and the mountains, lots of quaint features and an atmosphere reflecting of yeateryear mainly because thankfully many of the original features have been preserved and maintained.
Friday evening: Gradually our yoga enthusiasts arrive and each expresses their wonder at the tranquil location. After a refreshing drink suitcases are unloaded that without exception appear to be packed for a full week rather than the weekend.
Imagine being greeted as you arrive by truly free range hens who are tame and almost come when you call.
It's time for a very welcome post journey yoga session to loosen up a little before dinner.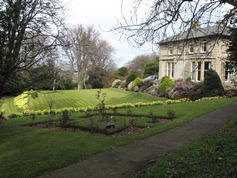 Dinner is a three course vegetarian delight first with butterbean soup followed by lentil and nut roast with accompanying veg. and lemon sponge and custard or apple puree and ice cream (soya) for Gluten Free. All home made by the sisters who make us feel very welcome.
Before retiring for the night we have a yoga session to prepare for sleep and it works, everyone is eager to get comfortably to bed.
The mattresses are bouncy and yet firm, very comfortable. There is a wash basin in each bedroom and plenty of toilets, showers and baths dotted along the corridors. There are also brew points with ample supplies of drinks and kettles, biscuits etc for a last drink before bed.
For those brave enough to get up in time for 7.30 (and I believe everyone did) there was a wake up Yoga session before breakfast.
After breakfast on Saturday a guided visualisation relaxation helps the food go down and everyone attended. A stroll around the grounds proved to be a photo opportunity as well a bird spotting exercise - we definately heard a woodpacker peck pecking at the trees. This was fololwed by an energising yoga class with postures to prepare for lunch which was a 3 course meal with vegetable soup,a fantastic selection of imaginative salads and a choice of puddlings.
In the afternoon as the weather was reasonable we managed a walk to the beach which involved a 15 minute stroll through the village down a tunnel under the main road leading us to a smooth sandy beach with pebbles. We had some fun there and although it wasn't possible to do any real yoga on the beach, for the sake of pride we made an attempt (just while the film was running). We all got a good injjection of ozone.

A few people had stayed behind doing their own thing which might have been reading, sleeping or mooching.


Back in time for a yoga session to the sound of a gong which was a different experience.


Then before dinner we have time to have a fun exercise and play a game to get to know each other a little better and to stretch those comforts zones - only fair as the muscles and joints had plenty of stretching so far.
The evening meal was curry and rice and for pud bread and butter pudding with a glutton free version too.

After dinner we decided the weather is good enough for an outdoor activity so we prepared indoors for the labyrith walk meditation. Once we have the process firmly in mind we make our way to the stone Labyrinth, fantastic. One of the most charming things about this area is that it is hidden through a stone arch just off the rustic path that leads up the hill to the sea view. The labyrinth is planted with a selection of herbs and shrubs amd is truly hidden gem. The walk and meditation is enhanced by the sound of your feet moving across the small stones.

The labryinth thereafter seems to be like a magnet for quiet moments and almost everyone had a lone contemplative walk.


Our evening yoga before sleep class is becoming a habit now.


Sunday morning everyone attended the wake up yoga session. Following breakfast we relaxed to a gong bath. Then a final yoga session before lunch which was parsnip roulade with vegetables followed by egg custard and apple puree.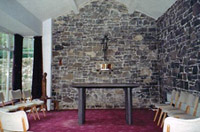 All yoga classes were in the chapel to the sound of silence a wonderful luxury not to be contaminated with music however relaxing.
Things I don't know about the weekend:
I don't know which labyrith I liked the best - the gravel one or the lawn one
I don't know how Barry came up with so many different versions of Yoga that seemed to be perfect for the time of day.
I don't know how to thank all the lovely people who joined us.
I don't know how a weekend can feel like its been a week.
I don't know how to find that lovely quietness at home


It took us so long to manage to book into this place but it was worth the wait and we have pencilled early for next year in the summer this time We wanted to take advantage of the outdoors to enjoy yoga on the lawn and even on the beach.