Yoga Teacher Training:how much do I need?
Posted on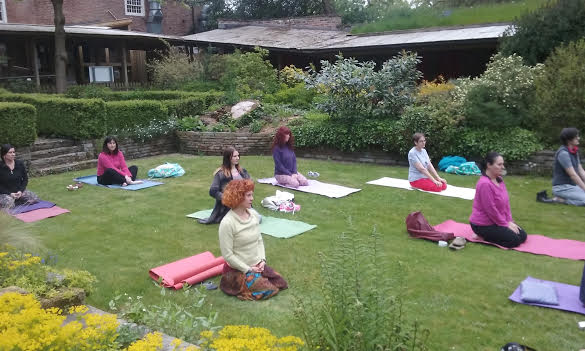 In recent years there's been a lot of speculation about how long yoga teacher training courses should be. Perennially, we have had the 200 hour courses. Then some of the yoga associations began proposing 500 hour courses and then almost as an afterthought along came the 300 hour compromise from some yoga schools. Recently, we have been getting suggestions about a 1000 hours! Of course you could always opt for the 30 day fast track style course in some far flung exotic location but who would seriously fancy that!
So which is right?
I'm grasping here for the piece of string concept. There is a belief in learning circles that anyone wanting to become adept at any subject has to be looking at around 10,000 hours of application and of course this would take years. So we are moving towards the idea that the more you do the better you get and that's obvious of course.
There are a number of variable factors that ought to be considered when thinking of how long you initially train and what might help project you forward in your progress.
My first concern about extended training courses such as the 500 and possible 1000 hour courses is trainee commitment. Even the 200 hour courses can require a full weekend every month for a year with additional attendance for observed teaching practice and maybe assistance work plus added homework. Many of my trainees over the years have missed days and even whole weekends of their course despite signing to full commitment.
Some prospective trainees also have the hidden belief that a 200 hr course is a softish option and really just about attending the weekends when they can have an interesting interaction with like minded students and practice a bit of yoga with a bit of philosophy thrown in. It really depends on which 200 hour course you do and the syllabus is worth looking at and even asking the trainer what the course work is like and what to expect. Some 200hr courses are superficial and can be a bit like some of those in Australia where many 200 hr graduates are only expected to act as yoga teaching assistants.
There are 200hr courses that have a lot of depth and where the homework can be more demanding.Its often about striking a balance between exposing trainees to enough (probably 50%) practice and training with methodology and the philosophy, traditions and thinking behind yoga.
I insist that trainees do several of their later observed teaching practices with invited members of the public as this gives them a more realistic experience so they don't have to wait till after the course to teach "real people" as opposed to peer group teaching. My trainees are also preparing yoga sequences from month two and teaching their per group from month 3. Where appropriate I also encourage them to start teaching in the community if there is the opportunity and I think they are ready. This will depend on their confidence and early knowledge. Remember, insurance is needed and their students must be informed that they are on a training course and perhaps charge a bit less. In my experience those trainees who can find this opening (not always easy but doable) progress more quickly even if they start the course with less experinec than other trainees.
Also it's easier to get to grips more quickly with a teacher training course if you have first attended a short (6mnths) Yoga Foundation which is aimed at deepening your practice.
In conclusion I think the 200hr can be enough to be ready to teach if you apply yourself to the course work and do plenty of background reading while also considering some of the other factors I have mentioned above. It's worth noting that those who embark on a yoga teacher training course will no doubt have been personally practicing for some years and attending regular yoga classes weekly. This should give them a strong start especially if they have been getting their heads into yoga thinking behind the Yoga Sutras and other texts.
It's courses for horses so to speak and also how you work. Some people just like taking courses all their life. I have heard of someone who has taken no less than 6 yoga teacher training courses and this was while they reamined an assistant teacher! In the end you have to dip your toe in the water and find every opportunity to teach as this is what will make you strong. The course is really to propel you forward to that place.
Barry Todd (Hatha Teacher and Trainer)