Yoga & Spiritual Adventure Weekend in Wales 2, or 3 nights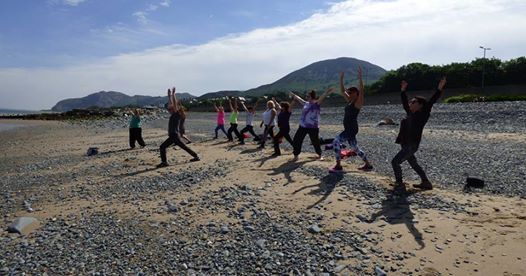 Date for 2019 Choose your own from Thur 6thth to Sunday 9th
Come for two or three nights
3 nights £275; £2 nights £200
If you start paying now you can pay ,monthly. Or pay a deposit of £75 followed by a further £75 and £50
Register below
Tucked into the foothills of snowdonia, overlooking the beach you can discover amazing peace, quiet and enchantment.
The overwhelmingly impressive thing about this venue is the absolute silence, broken only by the hourly chiming of a clock, the breeze rustling through the trees or the lapping of the sea .
Mainly single room accommodation the old house is quaint and cosy, the extensive grounds are a rustic thrill with a suprise around every corner.

Going for a walk in the grounds means meandering up hills and down again and probably losing your way along the way. Memories of yesteryear around every corner that the recent renovations to the ground has not detracted from.
Climb up to the top of the hill for wonderful views of the beach and the amazing Welsh coastline. In fact, walk down to the quiet and expansive beach and experiece the purifying health benefits of the ozone as you practice yoga on the beach.
The grounds are packed with inviting corners to quietly meditate including two labyrinths and a fountain. Our early morning meditations round the fountain have become a must do for some whilst others prefer a lie in till the early yoga class or breakfast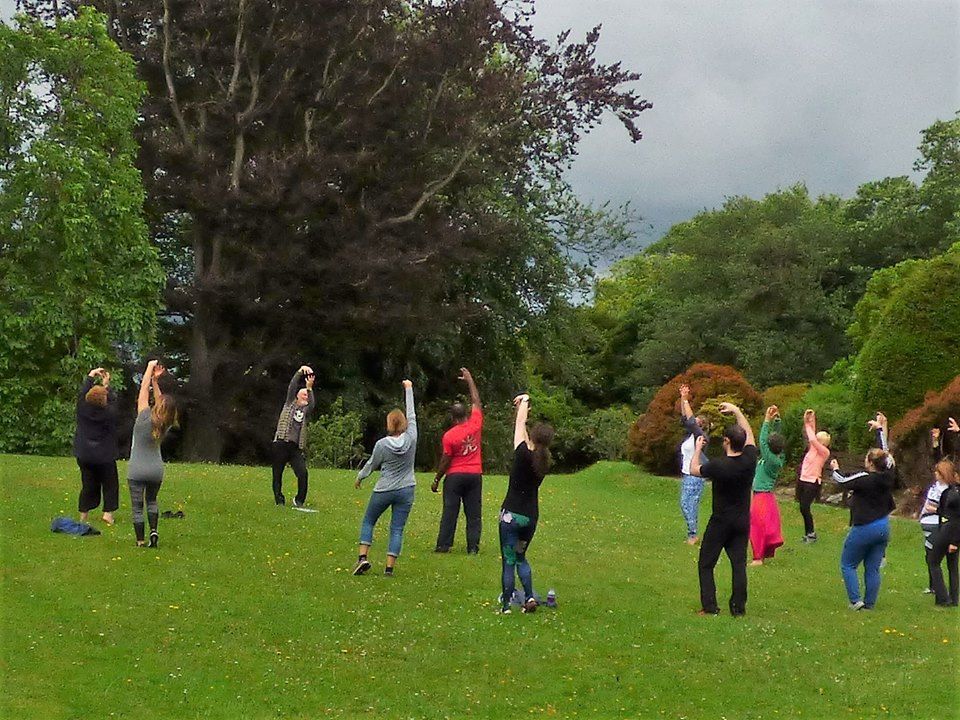 What better place to practice yoga than in the peaceful stone walled chapel if it's just not going to work on the beach or the lawns.

Amazingly these tranquil weekends away with nothing to do except relax and indulge can really revitalise and refresh your raison d'etra, feeling more like a week away than a weekend.



Home cooked healthy and nutritious food is served throughout the weekend.

The privacy of single accommodation is available to all with a small number of twin or double rooms for friends to share.

We will do our best to accomodate your room choice, however we are unable to guarantee any room.
Accommodation is homely. There is a sink in the rooms with showers and tea making facilities dotted along the corridors.

Food is plentyful and healthy veggie. Please let us know if you have any special needs such as gluten or lactose intolerance or veganism and it will be accommodated.
The value of this weekend is worth much more than the surpringly low tariff of £200 (from).
What you can expect on our Adventures:
Make lots of new friends - we don't do cliques
Daily yoga class (at least one per day)
Meditation - early morning, late evening and some inbetween
Walks to the village and beach
Everything outdoors as much as possible.
Time to yourself to do your own thing - we won/t pressurise you to join in
Evening entertainment
Labyrinth walking - two available
Candle light meditation and chanting evening - based on our monthly sessions at the centre
Pampering or pummeling with a range of holistic therapies (extra fee)
Flexibility for request activities - we did a spontanrous laughter workshop by request and a hypnotherapy group session this year.
Guest workshop or class leaders
Please register on the form below e
nsuring that you include your contact details mobile, address and email so that we can contact you at all times.
Please also make sure you answer every question.
Please pay by bank transfer to
Mind and Body sort code 09 01 28 a/c 03858382 using your name and 'retreat' as reference
Pay monthly by standing order with the same details - see above
To reserve and pay balance later please pay deposit of 25% A further 25% will be due by 1st October and full balance by 31st April 2019/
or send a cheque to Mind and Body, 50/52 Bolton Street, Bury BL9 0LL stating clearly your name and the purpose of the payment. (made out to Mind and Body)
You could also pay by cash, please ensure you get a receipt.
T & C
Deposit of 50% or standing order
AND a Completed Registration form is required to establish your booking. Please ensure that you fill in the registration form fully.
Cancellation: by us at any time will entitle you a complete refund of any payments you have made.
By you:
Up until 31st October 2018 you will be able to claim a refund of any payments made less £30 admin fee. Thereafter the full amount will be due. We therefore advise you to ensure yur holiday insurance covers you in case you need to cancel.
One of the very best thinngs for us about the retreats is that we have people who we see fleetingly each week for a yoga class and some who come to other activities too or even people that we have never met or who we only see on the retreats each year. We find that it is a time to get to know these people in more depth and when people begin to relax over the weekend their different side begins to come out and we really get to know them well.
We have people who have been coming to yoga classes for years but on retreat we find a different more relaxed side to them and it really is very fulfilling to experience this.
Each years we have a slightly different set of experiences so here's last years activities just to give you an idea.
We were very fortunate that the weather was fantastic most of the time and we were able to have a yoga session on the beach and an optional swim in the sea followed by coffee/ice cream in the beach cafe which for me I think was the hghlight of the weekend.
A close runner up were the sessions of yoga on the lawns under the shade of the old trees.
Whereever possible we were outdoors and the only indoor activities were the evening yoga sessions and the individual hypnotherapy sessions. It was great to relax to the yoga and then be able to go straight to bed.
The labyrinth mediation walk was wonderful on the grass labyrinth with bear feet and the pebbly one was a good additional one to try and smell the bountiful herbs on the way around.. I kept seeing people rturning to the labyrinth alone to work some of their aims over the weekend which was good.
We made use of the marque in the garrden on two evenings. One when we had a professional magic performance and the other was a sing along (and dance it turns out).
Each morning before breakfast there was the option to meditate around the fountain in the grounds, others chose to wander the grunds and explore, others had a lie in.
We also had a Qi gong session on one of the lawns which was interesting and a contrast to the yoga
We had a spnataneous yoga laughter workshop by popular demand again on the lawns.
Inidividual hypnotherapy sessions and colour/flower reading out doors.
A walk into the village for forgotten essentials and treats.
Linz who was offering really reasonably priced therapies sold out and was working untill 10pm some evening. People were gong back for seconds! we saw so little of her we began to suspect she had sneaked home.
Last year we had a didgeridoo demonstration as evening entertainment.
Not sure what it will be next year.
:
Rooms available:
The following rooms are on the first floor of the main house. The rooms tend to be smaller and most have good views over the grounds and mountain or sea.
Room 1 twin booked
Room 2 single Booked
Room 3 single
Room 4s booked
Room 5 double
Room 6 single
Room 7 single
Room 8 single
Room 11 single bookedcb
Room 12 single
Room 13 double
Room 14 double
The following rooms are in the block past the chapel and tend generally to be slightly roomier with limited views of the garden or buildings
Room 21 twin en suite booked
room 22 single next to shower room
Room 23 single next to shower room
These rooms are also on the first floor past the chapel and have views of the grounds and surrounding buildings
Room 24 single
Room 25 single
Room 26 single
Room 27 single
Room 28 twin booked
Room 29 twin
Room 31twin booked