Room Rental
We have a number of rooms that we hire out to professional and fully qualified therapists and trainers who we believe would add to the quality services that we offer.
We welcome therapists who believe in what they do and are dedicated to using their therapy for the benefit of others. Working in a centre they should also understand the value of working together with other professionals and where appropriate cross-referring for the best benefit of the patient.
The rooms that are available for rental are as follows:
Therapy Room 1
A Hands on therapy room, big enough to hold two beds so ideal for those who need to move around a lot. This room has ceramic tiled flooring, a sink and a glass topped desk/table, two comfortable chairs, a Masters massage bed, a La Fuma reflexology chair. This room is also useful for two therapists working together with couples massage, two on one massage or Indian Head Massage etc.
Suitable for massage and body work, small group work, talking therapies. This room is also suitable for small workshops with around 6 sitting in a circle with a leader.
Rental from £15 per 4 hour session
Therapy Room 3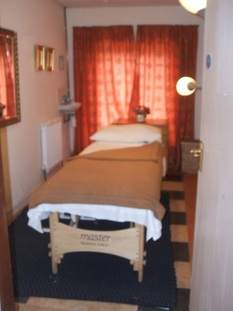 If you don't need a lot of space this room is ideal for you. It catches the sunshine giving it a great ambiance and has room for one large massage bed.
This room has ceramic tiled floors, a sink, a table/desk, chairs, a large massage bed, La Fuma reflexology chair.
Ideal for massage therapists, hot stones, beauty therapies, reflexology and Indian Head Massage. It is also a cosy option for talking therapists who want a snug environment for one to one work. It has been used for training for a small group of no more than four people.
This is a perfect and attractively priced room for new therapists building up their business. Rental from £10 per 4 hour session
Training/Yoga/workshop room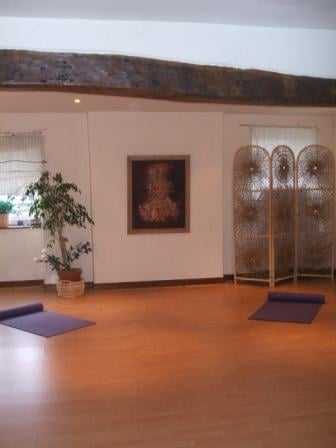 This room is suitable for classes with groups of 12/14 lying down and stretching out ( i.e. yoga) and more standing.
It is also suitable for group training and we have had several trainers using the room for a variety of topics which include the use of massage tables or on site massage chairs, group training in a circle with room for around 20+ chairs, workshops and talks with classroom style layout and formal training around tressle tables.
It is not suitable for very active or noisy sessions i.e. Belly Dancing, Zumba etc because of the interruption to the therapies.
We welcome enquiries from Yoga teachers offering a different style to the ones we already offer and who would like to work within our timetable.
Workshops have included: Tarot reading, colour workshops, massage training, crystal training, yoga teacher training, hypnotherapy practitioner training, Past life workshops, Spirit guide workshops and workshops by angel therapist i.e. Glennyce Eckersley, Jackie Newcomb and more.
If you are interested in using the room for training we can offer a conference package to suit your needs. Please let us know of your requirments and we will quote you. Most weekday daytimes are free and we run classes most evenings. Weekends are booked regularly for training but there are some weekends available for one off workshops etc.
Some of the rental needs we can accommodate
Each room is charged differently and the most cost effective way to rent is to commit to a regular slot in our programme. For those therapists/trainers we fully support their marketing, including them in all our centre information and offer regular marketing opportunities.
We also offer rental opportunities for therapists with local contracts to fulfill.
For trainers who are offering a programme with a set length we offer catering to your requirements i.e. morning drinks, refreshment breaks etc.
Yoga teachers with yogis can hire the room independantly or can integrate into our system and become a part of our weekly yoga programme. yoga teachers can hire the room for a one off workshop by the day or half day.
Trainers who want to book a series of sessions to fulfill the needs of a course can book for up to a year in advance by securing with a small deposit.
In all cases, except for our regular therapists a future reservation can be secured with a small non-refundable deposit.
Disciplines:
We welcome enquiries from all enthusiastic and pro-active therapists who are experts in their field, eager to build a new business or extend their existing business in a new location. We would be especially interested in Alexander Teachers, Bowen Technique, Kinesiologist, Tai Massage, Tai Foot Massage, Aromatherapist, Shiatsu, Beauty Therapist, Holistic Therapist, counsellor, Feldenkrais Methodist, Cranio Sacral therapist, physiotherapist etc.