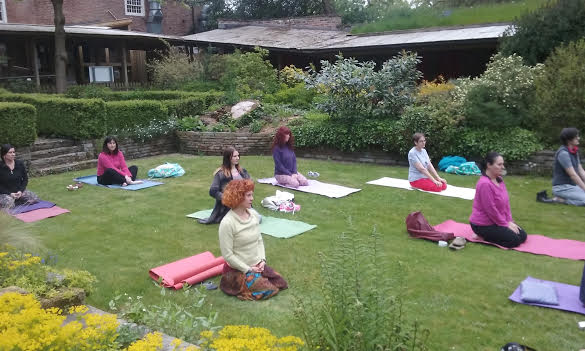 While I have been practising yoga for some 40 years I have only been teaching yoga for about 16 years and in those latter years I have often thought it important to give my students a reason for practising yoga. That has often been played out on the yoga mat, why are we practising this particular posture, why are we doing this breath technique, why are we are we doing this particular relaxation technique or meditation.
By giving students a good reason for doing what they are doing I have found it inspires them to continue with their practice with greater encouragement and purpose.
But if you are a beginner or someone who is thinking of starting yoga what might be a good reason for taking up this practice?
As we have moved into the 20thC many people are taking a fresh look at the idea of exploring spirituality and yoga can play an important role in that quest. Nevertheless, spirituality apart, yoga practices can give clear and meaningful benefits to everyone.
At this point I would like to just make reference to one of the great yoga Swamis of the last century, Satyananda Saraswati who once said words to the effect: Don't just practice yoga because I say it is good for you but if you do practice yoga have faith for a while in the technique you are using and then decide for yourself if it has brought value to your life.
Beside the spiritual quest, yoga can simply be a means of maintaining health and wellbeing in our increasingly stressful global community.
We probably will never completely irradicate stress in our lives. After all stress is the nature of matter in the universe. All atoms contain an element of agitation or stress and remember we have evolved from that matter. But we can do a lot to alleviate some of that stress.
Even gentle yoga postures assist in removing some of our physical discomfort that can build up during the day from our activities at work and other interactions that can leave us with tensions and sometimes feelings of anxiety.
Yoga breathing is an underated practice but it is probably the glue that holds the whole practice together and as your yoga journey unfolds you often come to see its ever growing value. I would even go as far as to say that our breath is the key to experiencing Samadhi, that blissfull state when the stilling of the body/mind brings us to a place of exquisite calmness.
Yoga relaxation and meditation can help us to make better use of our ever decreasing time off. We live in a time of mobile phones, laptops, 24 hour online shopping, a pandemic, political conflict and increasing hours of working from home. In this pressurized lifestyle practising yoga makes good social and business sense.
You could say that the underlying principles of yoga give us a most useful implement for helping us combat social despair. Yoga helps us to start reconnecting with our true selves so as to bring harmony to our body, mind and spirit in this current age and compassion where it has often drifted beyond sight. Besides the benefits already mentioned remember that yoga practice is an experience that cannot be understood in a scholarly way but can only really become part of your knowledge through regular practice and experience.
Barry Todd (Yoga Teacher M&B Bury)