Readers Questions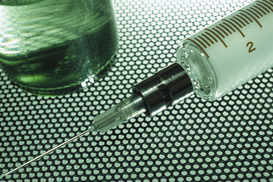 Q. Having been persuaded to have my very first Flu jab back in November 2011, which included the H1N1 (swine flu) also a seperate Pneumonia jab as well, I seem to have contracted one virus after another, which i never seem to have got before. Makes me wonder if my immune system has took a knock after having this vaccination. <more>
We recently got back from a long distance coach tour and 'guess what? 'I came down with an evil chest infection coupled with a horrible deep tickly cough which has not only kept me wake several nights, but given me a sore chest, and painful back and stomach muscles. Currently on antibiotics which is clearing it slowly "i think",
Is this common and what can I do to rebuild my immunity?? 'Think i might give the annual flu jab a miss this year though !
A.
You are not alone and whilst there is no official acknowledgement of side effects from the jabs, the number of people who have said similar things to yourself is convincing.
There is a very good article about those pesky little viruses you are attempting to protect yourself from here and whilst you are on the site you could browse through some of the other related articles listed on the health articles page. To rebuild or strengthen your immunity common sense prevails. Eat right and live right, exercise, get plenty of sleep. Unfortunately natural approaches to health do not have the speed of reaction that pharmaceuticals have but then again you do avoid the possibility of nasty side effects. Supplements are a must for self help when you are under par but it can be like pouring water down the toilet if you do not take care when selecting the right ones for you. Read our outlines on a selection of supplements in this and the next few newsletters and they may help.
The jab certainly protects you from some strains of flu, it's therefore a personal decision as to whether you want to go ahead or not. You should have a frank and detailed conversation with your doctor before going ahead with any treatment. Ask what the possible side effects are and don't be fobbed off and ask what the cosequences of not hacing the recommended treatment are. You are entittled to this and most progressive docotrs would welcome your interest
Please let us know about your experiences of flu jabs. Have they helped, have you had side effects?