Our retreat in Wales June 2018
Posted on
WHAT HAPPENS ON OUR SPIRITUAL ADVENTURE WEEKENDS
One of the very best things for us about the retreats is that we have people who we see fleetingly each week for a yoga class and some who come to other activities too or even people that we have never met or who we only see on the retreats each year. We find that it is a time to get to know these people in more depth and when people begin to relax over the weekend their different side begins to come out and we really get to know them well.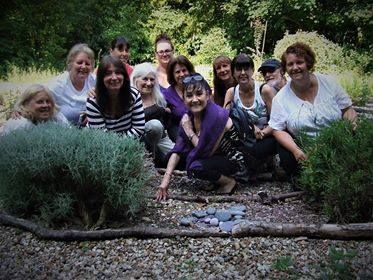 We have people who have been coming to yoga classes for years but on retreat we find a different more relaxed side to them and it really is very fulfilling to experience this and I am sure they would probably say the same about us.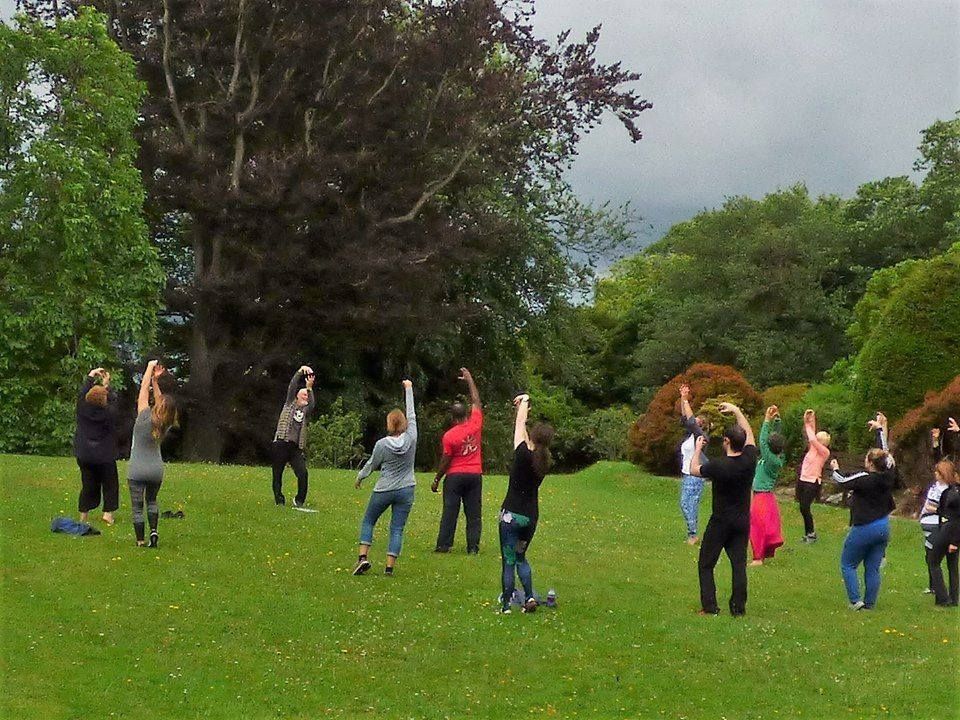 Each years we have a slightly different set of experiences so here's the story of our recent retreat just to give you an idea.
We were very fortunate that the weather was fantastic most of the time and we were able to have a yoga session on the beach and an optional swim in the sea which for me I think was the hghlight of the weekend. Some followed by taking a coffee/ice cream in the beach cafe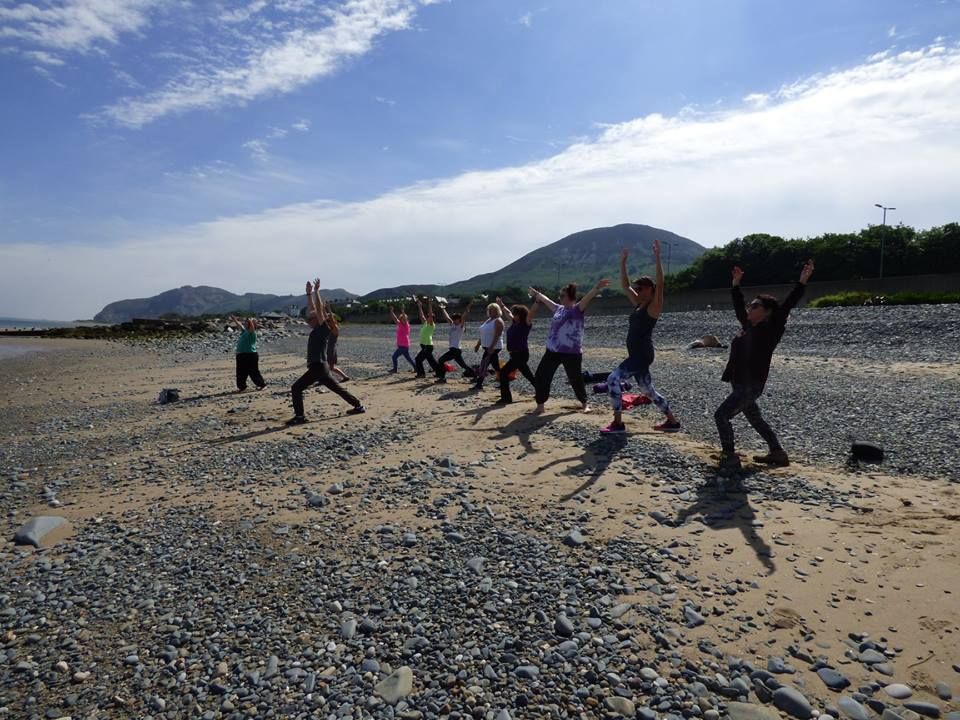 A close runner up for me were the sessions of yoga on the lawns under the shade of the old trees.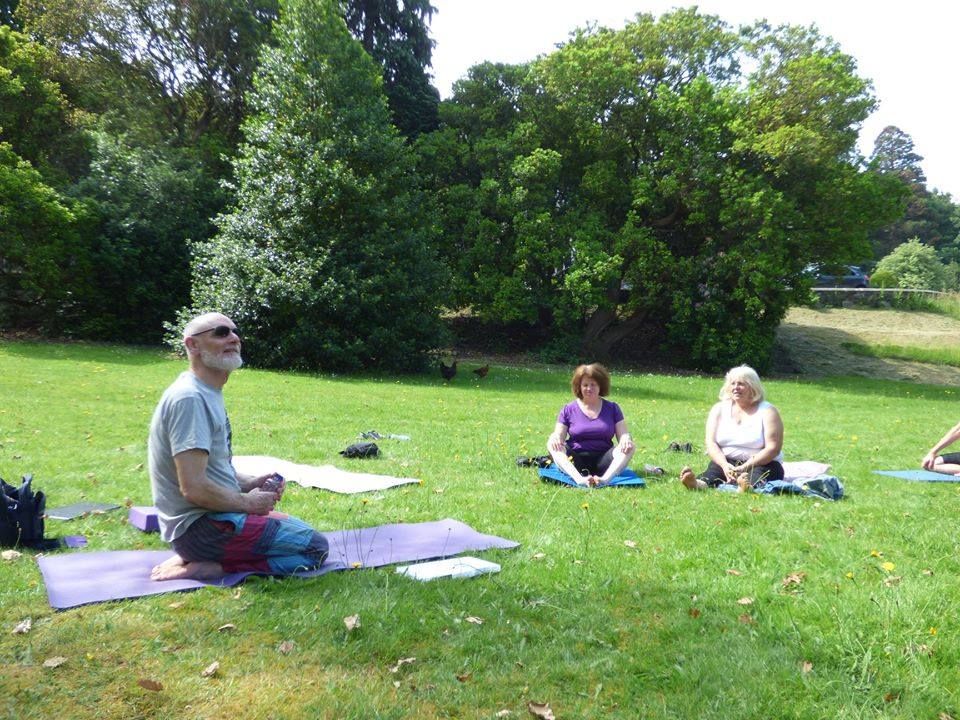 Whenever possible we were outdoors and the only indoor activities were the evening yoga sessions that took place in the atmospheric stone walled chapel and the individual hypnotherapy sessions. It was great to relax to the yoga and then be able to go straight to bed.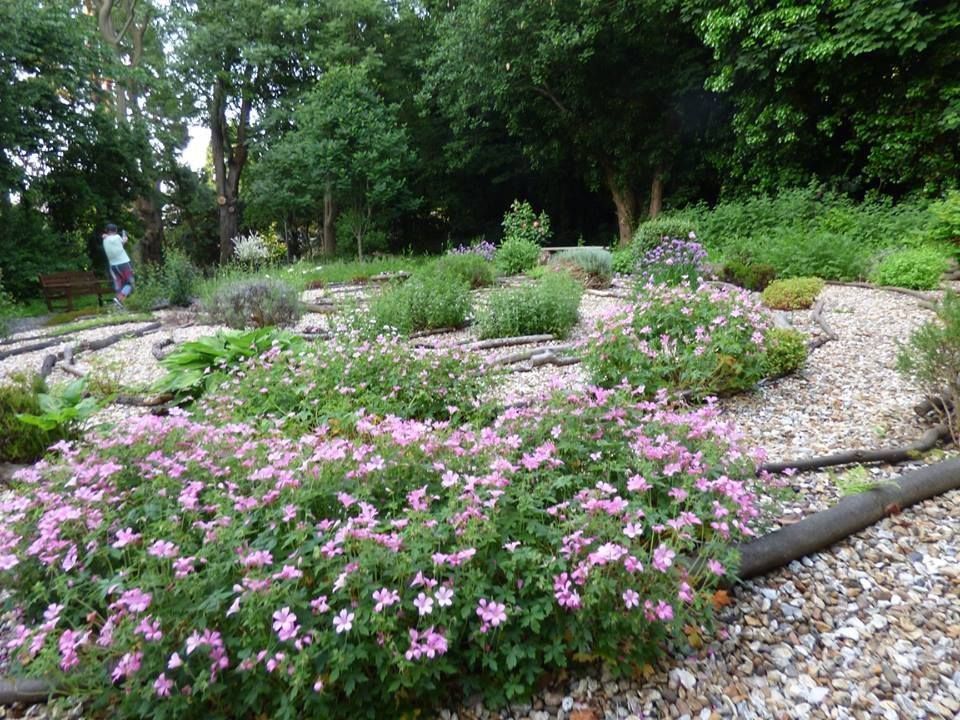 The labyrinth mediation walk was wonderful on the grass labyrinth with bare feet and the pebbly one was a good additional one to try andto smell the bountiful herbs on the way around.. I kept seeing people returning to the labyrinth alone to work some of their aims over the weekend which was great.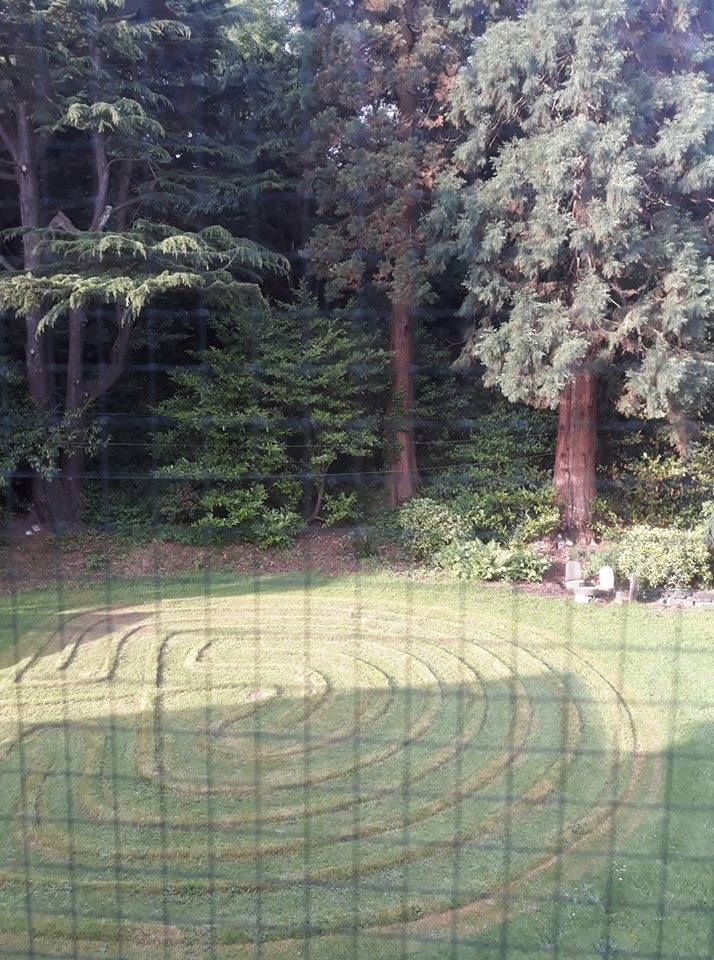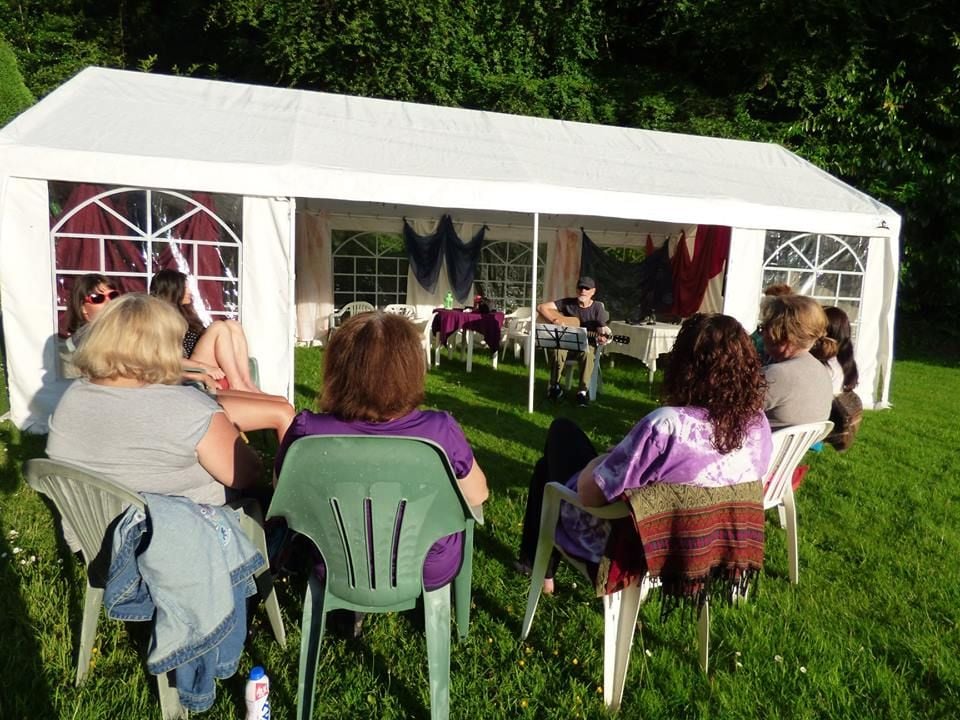 We made use of the marque in the garrden on two evenings. One when we had a professional magic performance and the other was a sing along around a virtual camp-fire (and dance it turns out).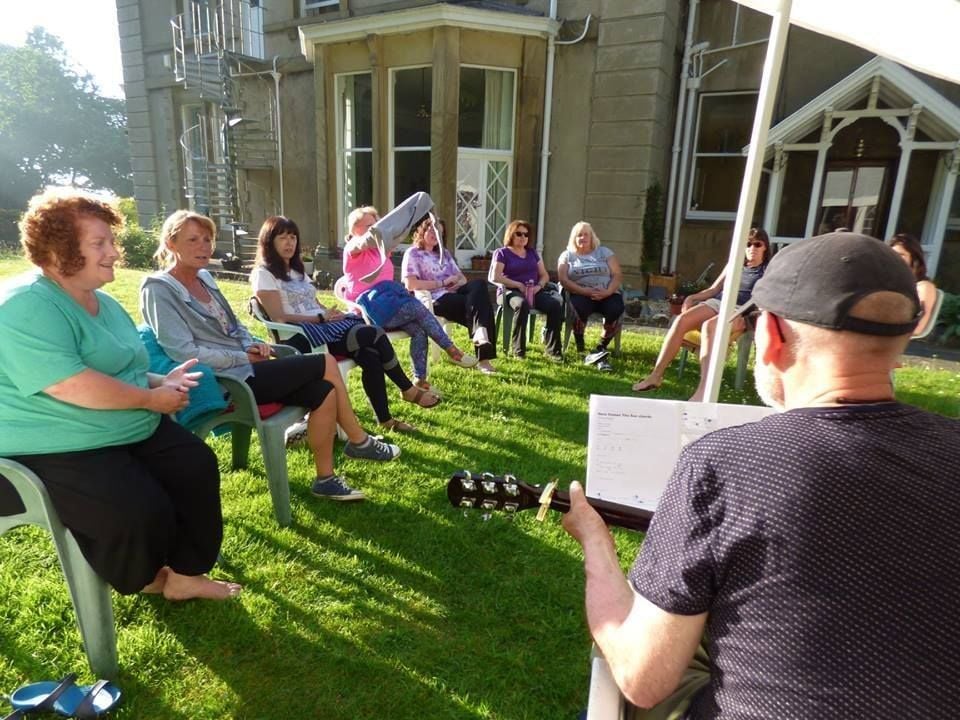 Each morning before breakfast there was the option to meditate around the fountain in the grounds, others chose to wander the grounds and explore, others had a lie in.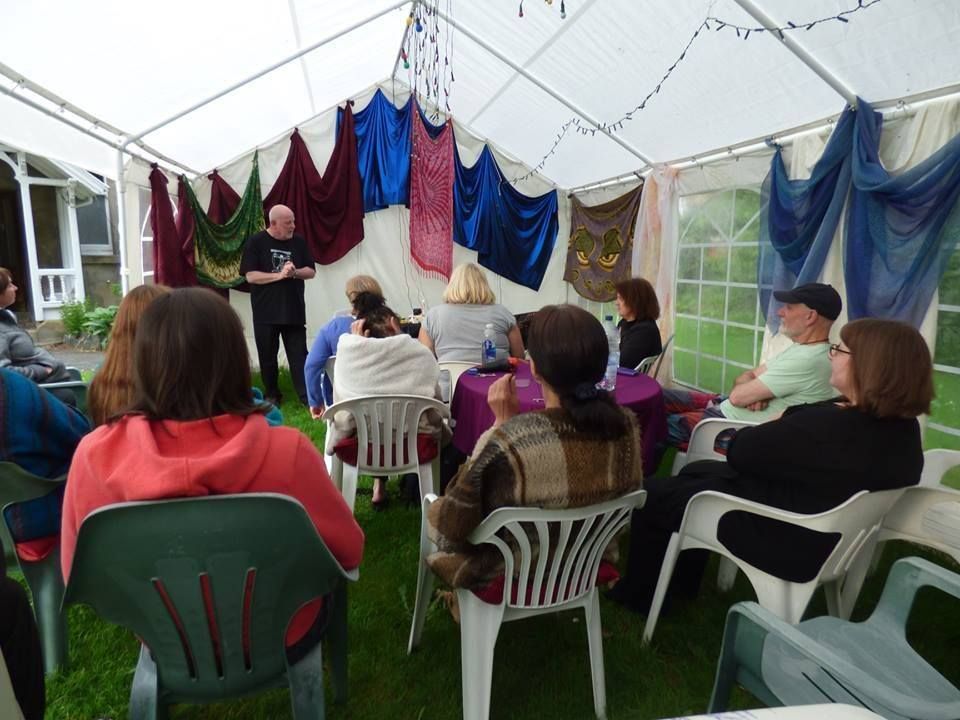 We also had a Qi gong session on one of the lawns which was interesting and a contrast to the yoga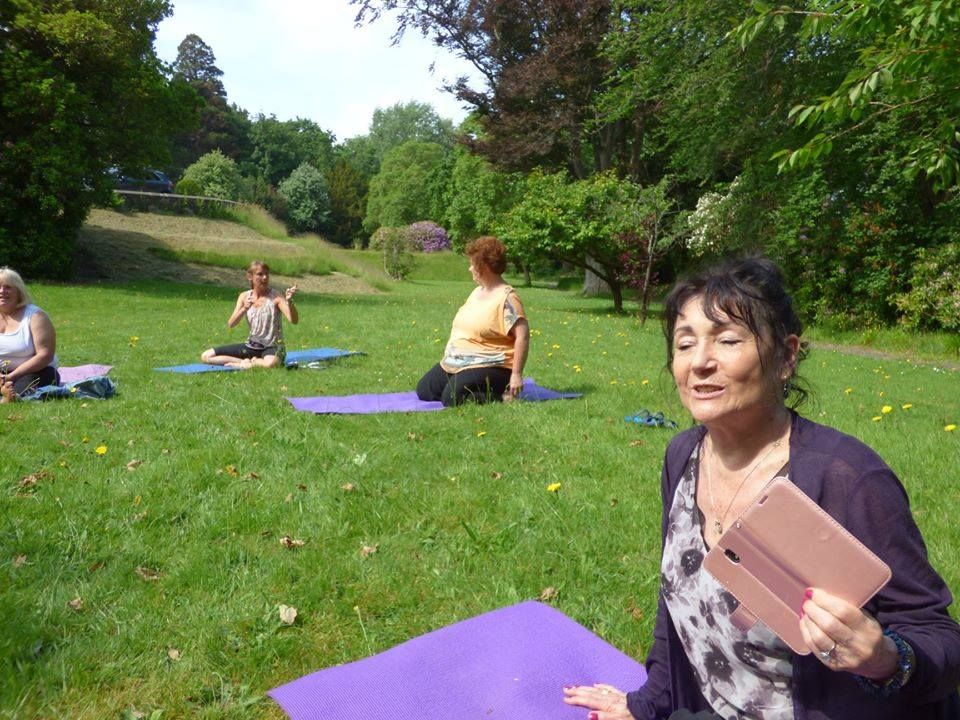 We had a sponataneous yoga laughter workshop by popular demand and unplanned, on the lawns. It seems that absence made the heart grow stronger as it was with reluctance that people joined in last year.
We had a spontaneous peeble art session and left stones to remember our visit.
The mandala workshop was also very interesting followed by a yin yang yoga session.
Even the stroll into the nearby village about 15 minutes away was a pleasure as we picked up forgotten essentials and special treats from the local shops.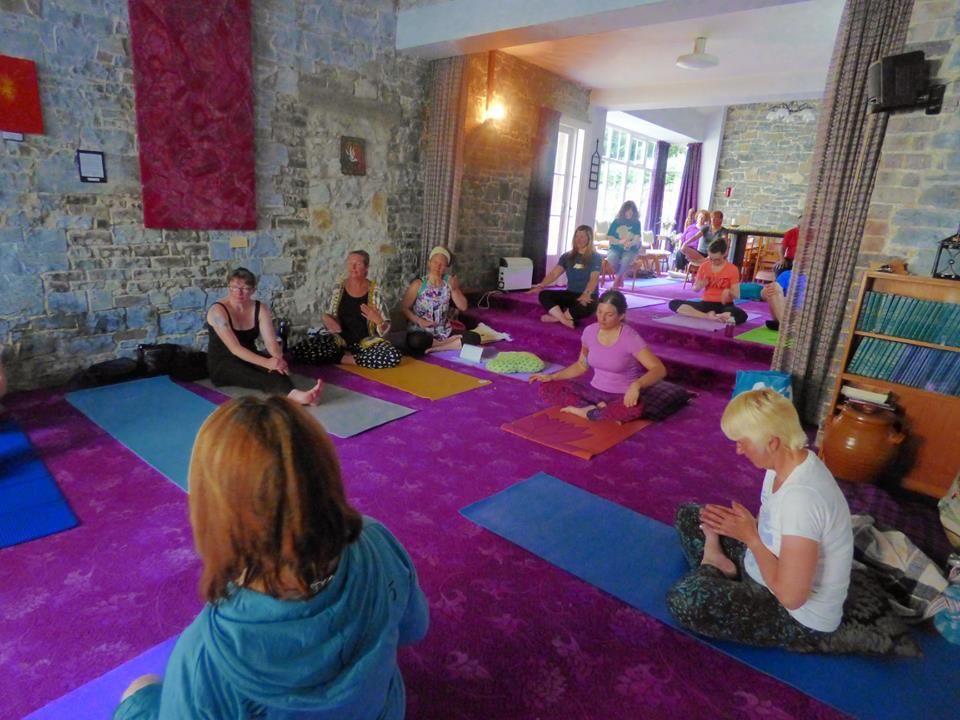 It was good to catch up with successful progress of some of the aims and projections made last year on things like the labyrinth meditation workshops and also good to see some people were able to bring problems to the sessions and find solutions. Can't wait for next year to see how they all work out.
Linz who was offering really reasonably priced therapies sold out and was working untill 10pm some evenings. People were gong back for seconds! we saw so little of her we began to suspect she had sneaked home.
Last year we had a didgeridoo demonstration as evening entertainment.
Not sure what it will be next year. We will definately be holding an extended version of our regular candlelight meditation evenings which incuded mediation, guided visualisation chanting and mantra for one of the evenings though.
As we are now offering more days/nights there will be more time to introduce lots of exciting things. So watch this space.
We already have bookings coming in for next year.....